Overview
All flights are automatically recorded and available to edit, view, delete, share and upload from within the DroidEFB Logbook.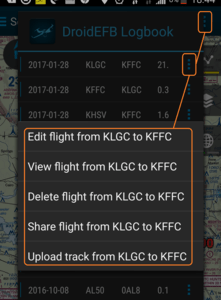 The DroidEFB Track Log feature is an added utility for uploading and viewing the recorded flight in either Google Earth for Desktops or Google Earth for Mobile.  Here is an example of the 3-D flight path you can expect to see when viewing a Track Log with Google Earth:
Track log recordings are automatic while DroidEFB is running and airspeed is greater than 30 knots.  To upload a track log immediately after a flight, navigate to Menu > Track Log within the app.  Select Upload then Online to view the uploaded file.  To upload a flight later, navigate to Menu > Logbook.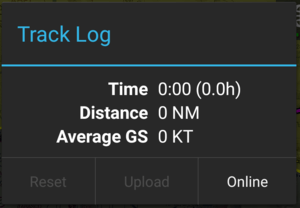 To upload a previous track log, navigate to Menu > Logbook within the app. Upload any Track Log data file to the web server where it is automatically translated to .kml files that Google Earth can open.  Once opened with Google Earth, you may watch  (play, pause, skip-forward/back) a replay of the flight path.  Or, you may manipulate a particular flight path screenshot view by zooming in/out, pitching up/down, and yawing left/right to capture just about any view that you can imagine.  Not only is a Track Log a great tool to critique your pattern and flight plan precision, but it also allows you to digitally capture and share an overview of those meaningful flights.
Lets get started on creating your own Track Log: